War of the Spark Senter
Oppdatert: 10:22, 1/4
War of the Spark er settet hvor den siste kampen mot Nicol Bolas utfolder seg på Ravnicas gater! Offisielt så tilhører ikke War of the Spark noen block, men tilhører uoffisielt til Guilds of Ravnica blocken som en del av tre sett: Guilds of Ravnica, Ravnica Allegiance og War of the Spark.

Her er trailer til settet:


NYHETER
War of the Spark


10:22, 1/4, av verzutiko
Vårt War of the Spark-senter er nå helt oppdatert. Totalt har vi 27 kort samt den feteste Magic-trailerene for et sett jeg noengang har sett!

Det vi vet så langt er at alle Planeswalkere ser ut til å få en static eller triggered ability, og at vi får 20 Uncommon, 13 Rare og 3 Mythic Rare Planeswalkere. Dessuten er "Proliferate" tilbake samt at vi får et nytt keyword i "Amass"!

0 kommentarer



Symbol:
- ingen bilder enda -

Booster-pakke:



Display: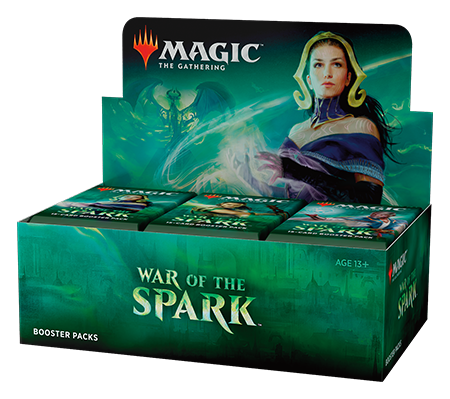 Bundle: